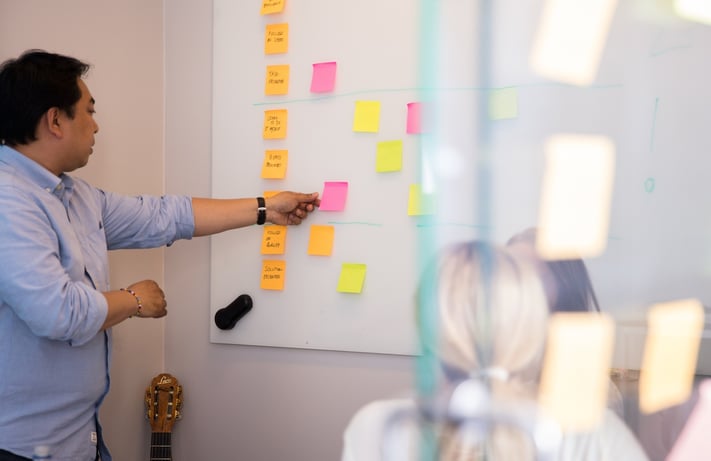 Imagine the magic of bringing an idea to life during a requirements meeting. Perhaps you do this already using a whiteboard or tablet, or even paper napkins. But consider the impact you could have if a solutions architect configures the processes, business flows and the attributes into the application during the discussion.
You can turn around a working application in the meeting itself. You will not only get "oohs" and "ahhhs" from the adoring audience, you will also get actionable insights, feedback and firmer requirements in real time. Magic!
A Flowfactory partner, Michael Siljö of development solutions provider SoftGear, has long used this "trick" to great success as part of the scoping and requirements phase. With a low-code platform, now he (and you, too!) can use this approach to bring ideas to life as they are being discussed. It's a great way to help business users really understand what they want, don't want, and match those desires to what is actually possible and practical.
Breaking the Magician's Code
Spoiler alert: We'll freely share how it's done at SoftGear (thanks, Michael!). The magic is made by having a senior developer using the low code platform while an architect or requirements manager is leading the discussion with business stakeholders. The developer has to listen and translate the business language into code using a rapid dev platform like Flowfactory.
"A citizen developer can't code on the fly like this, but a senior developer can do this in near real time," Siljö says, emphasizing that some software design experience is required to be this agile and rapid. "You do some 'magic' and you get the benefit of showing the customer a real working application. It's very helpful to both sides."
Bringing Ideas to Life
A collaborative, iterative approach like this lets developers shine as experts, as well as advocates for the most practical and effective approaches for that situation and company. "Our developers have to identify the perfect mix of tools and ideas to capture the business opportunities," Siljö says of the typical scoping process. "Many senior developers will resist a new, modern way of working," he says. "Yet, yesterday, a new hire said 'Finally.' It is also mindset."
While a technical person is rightly interested in code charts, capacity, security, the hosting environment, speed, storage and link backs; a business project owner is interested in functionality and ease of access. Having both parties participate fully in the rapid design is an imperative. Because they can see and touch the first stage application, low code platforms make it possible for business people to grasp what is being discussed, and offer their important insights and ideas.
"These low code advances have helped change how a technical team can be more efficient, work smarter, and deliver higher quality more profitably," Siljö says. "
The Flowfactory framework helps a lot - we can quickly do the modeling and build UI on top of it. We embrace low-code as a way to utilize technical people in a better way - to do rapid deployments and get more outputs without pushing the team harder."
How could you utilize a low-code platform to accelerate collaboration and application output? Share ideas with us on LinkedIn to learn how flowfactory low-code platform can #SpringboardGreatMinds
Download our free whitepaper about Low-code in Swedish. A guide to technology that can dramatically increases the speed of application development and at the same time enables harmonization of the application portfolio.
---